Skip Navigation
Website Accessibility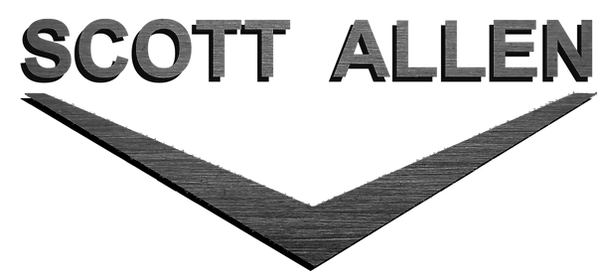 Scott Allen
caught the guitar bug by discovering the magic of one Edward Van Halen at age 10. Scott dedicated his teen years to studying the electric guitar, and upon graduating high school he relocated south from his home of Sacramento to the fabled glitz of Hollywood. There he would study at the world-famous Musician's Institute and get a chance to learn from the best. The 90's however were not kind to progressive guitar music, and by the time Scott graduated Hollywood also wasn't what it once was. He was lured back up north by the success of many local Sacramento bands such as Cake, The Deftones, Simon Says, Papa Roach and others. Even though that was not the music he wanted to play, the scene seemed more vibrant than the late 90's sunset strip.<
​
Upon returning home Scott recruited Drummer Tom Frost and Bassist Brian Kinney and began to hit the club scene. They eventually found themselves opening shows up and down the state for the likes of Gary Hoey, Michael Schenker, Eric Martin of Mr. Big, Dave Menitketti of Y&T, Planet X (which featured Derek Sherinian and Tony Macalpine), Montrose, and Frank Hannon of Tesla. After many shows together Frank Hannon of Tesla offered to produce the first SAP album entitled What Lies Beyond Words. This album would be released in 2006 and would lead to the band getting radio play in Northern California, and to the band providing music to the KRXQ 98 Rock Bod Squad DVD. That same year Scott was chosen by the legendary Mike Varney to appear in his famous Guitar Player spotlight column in Guitar Player Magazine.
​
Never ones to sit idle for long, the band soon got back to recording the follow up record, From the Blindside, which was released in late 2009. This found traction with Metal Express Radio's album premier show and led to Scott being featured on Steve Vai's Guitar TV's fresh talent show. That year Scott released his first instructional DVD for Chops From Hell entitled The Art of Rock Guitar. Not long after Scott began working with Truefire, the worlds foremost producer of online guitar content. This led to Scott running an online classroom and the Truefire courses, 50 Rock Virtuoso Licks You Must Know, Rock Chops, Tapping A-Z and Sweep Picking Essentials. As Scott has long run a successful private guitar instruction practice this was a natural.
​
In late 2015 Scott Allen Project released their 3rd full length album entitled, appropriately enough, III. In support of this release they did shows opening for artists such as Lynch Mob, UFO, Eric Gales, Steve Morse Band, The Aristocrats, Act of Defiance (which featured Chris Broderick and Shawn Drover of Megadeth), Kingdom Come and many others.
​
Now in the 2019-2020 window Scott Allen Project is releasing a new EP entitled Escape Velocity. The choice to do an EP reflects the changing times where the album format is less central and shows a desire to try something new. Featuring the most progressive and diverse music to date and featuring special guest Derek Sherinian (Dream Theater/Sons of Apollo/Black Country Communion/Billy Idol) on keyboards and organ, Escape Velocity is the sound of a band just hitting its stride.
​
Scott is currently teaching 6 and 7 string Electric Guitar, Acoustic Guitar and Bass at Tague Music on Tuesdays and Fridays. Rates are $120 per month for 4 half hour lesson time slots. Lessons are tailored to the student but it is encouraged that all students learn the basics of Chords, Rhythms, Harmony, Scales and Technique.
You can connect with Scott via email at sallenproject@gmail.com, and check out his music at
www.scottallenprojectband.com.
​
Connect with Scott on social media @
www.facebook.com/scottallenproject
www.instagram.com/scottallenproject